Hi,
I'm Jane!
I teach artists how to put creativity back into their art with exciting techniques and products that spark inspiration and loving results. The process of creating should be rewarding, not frustrating!
Your Idea Guide Awaits!
4 Inspirational techniques to help you begin using and incorporating Teabag Paper into your mixed media artwork. Time to have fun and experiment with this multi use paper.
GET THE FREE GUIDE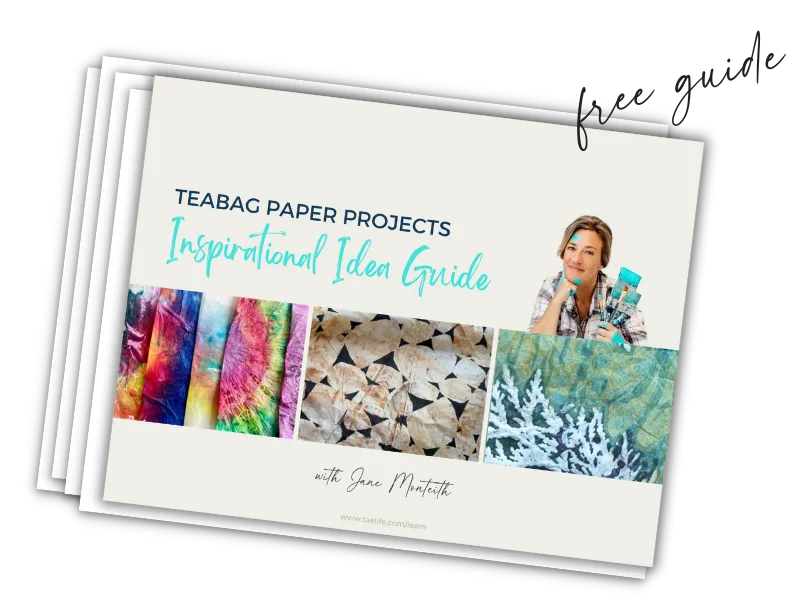 Need a kick start for your creativity?
Inspiration is the foundation and beginning of something special. I've spent the last 5 years finding my way and sharing what has allowed me to create beautiful art that sells - Let me help you to do the same by sharing my seven simple ways to kick start creativity!
GET THE FREE GUIDE
Artist Teabag Paper
Jane Monteith's Teabag Paper can be used in ALL kinds of Mixed Media artwork including Printmaking, Collage, Encaustic, Resin and more! It's thin, acid-free and non-yellowing, making it ideal for all your art projects.
SHOP NOW
Make your artwork pop with ArtResin
A hard durable clear gloss coat for your art pieces. It's been my go-to brand for years!
SHOP NOW
Shop Jane's ready-made art stencils
Explore the various ready-made art stencils from Jane's collection at StencilGirl and make your art creation process even easier!
SHOP NOW
Weekly Newsletter
Join my community to become a member of my Weekly Newsletter. Have fun and learn new things! Get a weekly dose of inspiration, art tips and more every Wednesday straight to your inbox.
Your details are fully safe with us. Unsubscribe anytime.
The
Curious Creator

Podcast

Whether you're a new artist or long time professional, we all need support, encouragement (and a few laughs) on our creative journey. This podcast was created for the artist seeking inspiration, motivation and knowledge to become the confident thriving artist they've always wanted to be. Jane shares personal insights, past experiences, tips & tricks for creating great art, business advise for online growth, marketing strategies to sell art and more!

LISTEN NOW