Elevate your mixed media art to a professional level

 

with resin, encaustic and metal techniques

 

that will demand attention.


My creative imagination has been thoroughly sparked.

Having taken all of Janes classes, Fused Harmony has been the best. Incorporating new ideas for textured papers, fabulous new materials and Janes instruction has created some beautiful new artwork. Nothing is left out, all of the steps and rationale are explained so students are able to recreate with the same materials Jane uses. Questions are answered with candor and clarity to make sure we understand, and techniques are thoroughly explained. My creative imagination has been thoroughly sparked, along with the spark, I have the knowledge to carry the image in my mind into a new piece of art. The Bonus content is on point, practical, useable and very valuable content


- Millie Mathison
Great learning experience, really opened my mind to new possibilities to be creative.

What an amazing course. I can only imagine how Jane's other courses are, which I will be looking into. Would highly recommend this course to anyone who wants to absorb art of all avenues.


- Wendy Sanchez
I have learned so many great processes and techniques that I will be using in my work.

The Fused Harmony course has been such a wonderful experience. So many possible avenues to take with my work and I cannot wait to explore them all!


- Jen Siler
This course challenges you to think critically about art.

This is a well-thought-out informative class with detailed demos that will help to elevate your art. Also, it shows how you can use different mediums and styles in one piece of art that is cohesive and polished. Jane's teaching style helps you to absorb the information. I would recommend this class.


- Michelle Evans
For me it was an amazing course, Jane explains and gives all the details.

 This is my third course with her and really enjoy it! Thanks Jane for been so generous with your knowledge.


- Jimena Rincón
I have taken all of Jane's courses and each and every one is amazing!

She is a great teacher, nice easy pace so you really get a good idea of the techniques and products being used. I have recommended her courses to anyone I know that has an interest in art!


- Kimberly Hillis
this is the BEST course that has given the most inspiration, technique and help

I was hesitant at first because this is the first "Jane" course I have taken and the first course I have paid this kind of money for. Her monthly and weekly pre-course emails and videos were very convincing that I would learn something new. I want to say it offered me something new and so much more. Overall as many said and I agree: this is the BEST course that has given the most inspiration, technique and help when needed than any other course that I have taken.


- Diane Kirtley
If you want to get inspired or if you want to create new stunning art and learn new techniques like including Metals, Patinas and encaustic in your artwork, do not hesitate.

- Monique Querido
If you are a novice or professional looking to tweak your style and learn new techniques, this course is for you.

Fused Harmony is by far the best art course online. Jane Monteith is an amazing artist and instructor. Thank you for sharing your art form and techniques with us. You are the best!


- Vivian Playmate
I've taken several of Jane's courses and loved every single one.

I got started with just resin as a course, and I have been delightful and how I've been able to expand my knowledge and techniques using this and resin and encaustic. I also love the way she shares the different types of materials she uses and where you can source them.


- Pamela Seavey
Imagine pulling all of your creativity together to create exciting new art that will stand out from everything else you see out there?

In Fused Harmony you'll discover how to work with mediums and combined elements that allow freedom and expression, no matter the type of artist you are. You'll create art that results in something professional and unique each time you create.
What is the
Fused Harmony

course?


Fused Harmony is a 5 week online art program for artists looking to elevate their art process to a professional level by learning new resin and encaustic techniques to create desirable contemporary style art.

Jane teaches specific techniques combined with visual inspiration to prompt self exploration and experimentation allowing for a variety of ways to incorporate abstract or realistic elements into your art. This gives you the opportunity to accomplish unique results and a means to differentiate yourself as an artist.

The course is taught through modules released over a 5 week long period. Every video contains insightful, comprehensive step by step lessons that will give you all the knowledge needed to create beautiful art. Fused Harmony comes with lifetime access which allows you to either keep up with the weekly content or watch at your own pace. You can create on your own terms.

Valuable resources, supply information and live support are also part of Fused Harmony. All artists will have access to Jane during weekly Live Q+A sessions to get help answering questions, offer feedback and inspire you to create!
A peek inside to some of my art from the course:
Hey there,
I'm Jane!

As a self taught artist, I know what it's like to feel lost, frustrated or overwhelmed with creativity and direction.

It's frustrating too when you've spent time and money trying new things only to find your yourself back at square one without having accomplished much. 

I've spent over a decade learning and figuring things out on my own. Experimenting with multiple mediums and techniques, incorporating various materials and elements into my art. I've literally spent hours and hours (and more hours) honing my skills to be able to create art I'm happy with and proud of.
It's taken me years to get here and I always wished there was one place I could have learned everything to gain support, guidance, and have questions answered to confidently create art I now make today.
I'm so excited to share all my knowledge and techniques with you so can save time and make art you'll love - and others will love too!
I believe there's room for all of us! Learn my secrets, techniques, processes and the skills needed to elevate your art to the next level.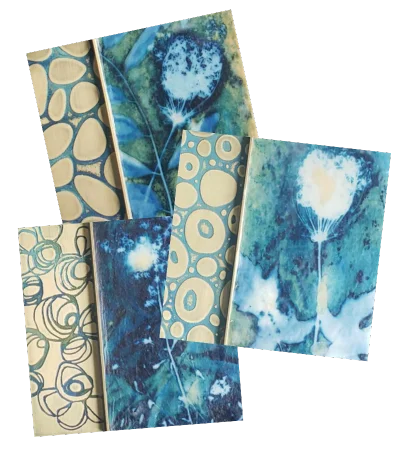 I was at a place in my life where I craved new challenges.

When I enrolled in Jane's Fused Harmony course, I was hoping to learn a few new techniques to incorporate in my art. Actually, it has been a transformation I wasn't expecting. Her course is well organized, informative, and each module builds on itself. Her great presentation with step by step instructions has led to improving my creativity and hands on skills. I feel more confident and inspired about my self expression through my art.


@angelightjewelry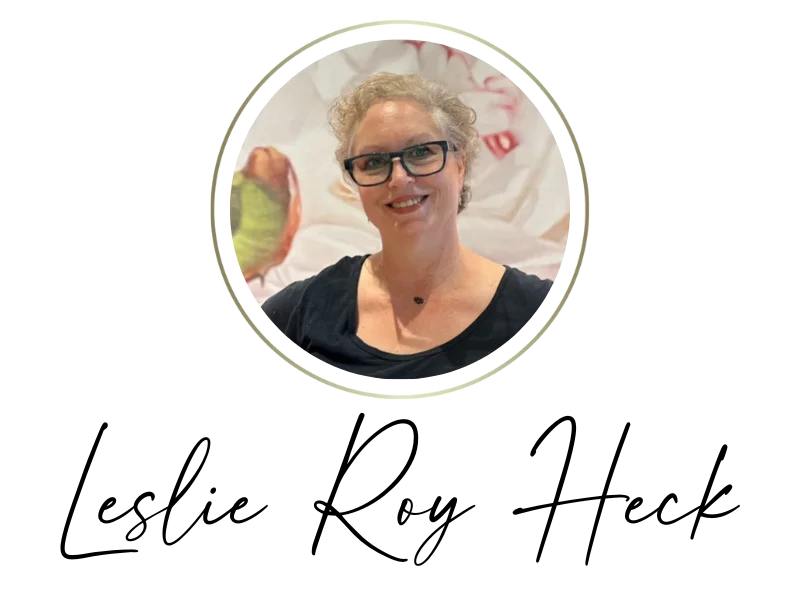 The unique process of incorporating etched metal, epoxy and encaustic to my work has not only heightened my technical skills, but has brought me a renewed energy to create.

The new techniques I learned from taking Jane's Fused Harmony course have brought my art to the next level. Jane has an immense amount of knowledge that she graciously shares with her students in a concise and organized way. I absolutely loved her course and highly recommend it to anyone searching for inspiration and new techniques to make your art stand out.


www.leslieroyheckart.com
This was just what I needed to take my art to the next level.

I have been mainly working with resin and a chance to incorporate resin, metals and encaustic in the same piece was very intriguing. Jane is a very innovative thinker and a great teacher. She shares all her tips and tricks through this very detailed, step by step course.


@hartfelt_arefa
Exclusive to
Fused Harmony
Lifetime Access
As a Fused Harmony student, you have lifetime access to the 2024 course content. You can create on your own terms. Go at your own pace and rewatch the course content whenever your wish. Stop, start and rewind at your own convenience.
Community
Never feel alone. Join other creatives and gain the support and guidance necessary to blossom into a confident artist. Share your work, ask questions and be inspired by others as we navigate this journey together.
Connection
Join LIVE weekly Q+A's sessions with Jane as she answers your questions, offers guidance, knowledge and inspiration. A great way to connect with other students, gain valuable insights and lift each other up. Extra tidbits of information (golden nuggets we like to call them) always surfaces during these live experiences.
Course Flexibility
Follow along with the modules as they release on the same day/time each week, or create at your own pace. Either way, you can learn on your own terms. Work/life commitments can sometimes take over - don't worry. You can come back to learning and create when you're ready to refocus and continue with the program.
Audio / Video
All videos are enabled with the ability to turn on/off closed captioning allowing for audio to be muted. Lessons also come with transcripts that can be downloaded and translated into multiple languages.
Risk Free
While I'm confident you'll blossom and grow within Fused Harmony, this program may not be for everyone. This course is backed by a 100% 7-day money back guarantee. Decide, risk-free, if Jane's teaching style is compatible with your learning needs and if the course content makes sense for your art direction. If you're unhappy with what Fused Harmony has to offer in the first 7 days, I'll give you your money back.
I have come away well equipped and ready to create my own pieces in your style

A style I have loved and followed for years! You are a great teacher and the pace of your course was just right for me. Having participated in a number of courses to date, I found yours to be the most personable. So thank you very much for teaching me your wonderful techniques.


- Nimisha Kotecha
 So much content and sharing of tips, hacks and ways to fix mistakes.

This is the best online class ever! My head is spinning from all of the opportunities to create new art. Coupled with your other courses, this Grand Finale is truly a masterpiece and pulls everything together! Looking forward to hearing more about the membership option. Much gratitude to you, Jane!


- Cathy Brilliant
What I have learned over these five weeks can be incorporated in my art in numerous and exciting new ways.

The Fused Harmony course was everything I had hoped for and more. Jane is a fabulous, caring and very generous teacher. This was one great investment that I'll cherish for a very long time. Thank you for everything Jane!


- Francine Lanoie
I am so pleased with all of the knowledge and skill I have acquired.

This course was an amazing journey. Jane's graciousness in sharing her secrets and expertise is beyond what I could have imagined. I can't thank you enough for your support and the community you created for us all.


- Melek Karacan
I could not recommend this more highly, as the work is all achievable and individual.

Jane's course is by far the most meaningful, helpful, fascinating and varied course that I have taken online. The opportunities for your creativity to be awakened are infinite and one is not doing a sort of "copy and paste" type of training. Absolutely outstanding, in every way!


- Roxy Danckwerts
Samples of previous student work
Course
Flow
Fused Harmony Resin & Encaustic online program is delivered and accessible through a private course hub. Learning is broken down into digestible modules that are released on the same day/time each week within the platform for 5 weeks.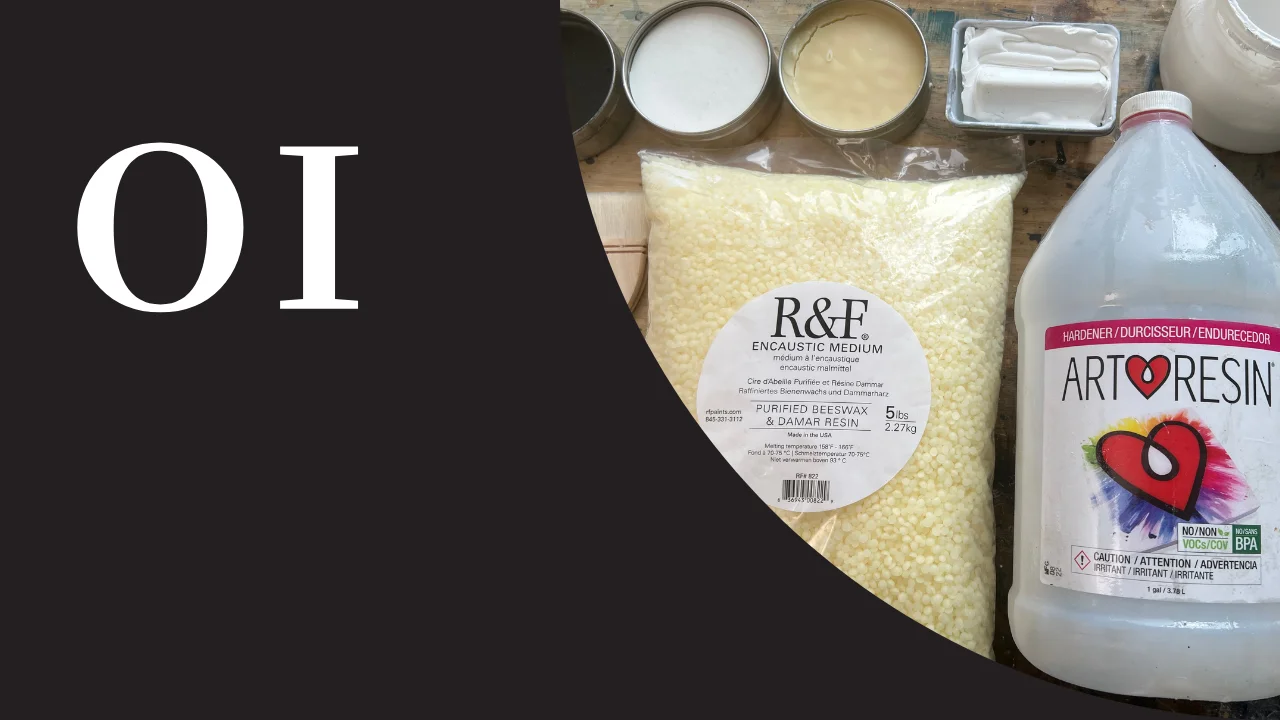 MODULE #1
Materials and Essentials
Learn which types of paper materials and paints/inks are best suited for resin and/or encaustic in order to create a cohesive grouping of elements that will be used in your work.
Materials and Essentials

Paper Types

Paints / Inks

Resin and Encaustic Overview
MODULE #2
Awakening Creativity
Whether you're a new artist or one that's been practicing for years, inspiration serves as our starting point to creating something special. Kick start your creativity and begin with activities to spur new ideas and artistic flow that will open up unique possibilities for your art.
Papers and Patterns

Rust Papers

Ink Flow

Printmaking
MODULE #3
Metals and Patinas
Gain knowledge on using metals within your art beginning with sheet metal. Learn the process of etching that will compliment your art and then colour your metal permanently with a patina.
Metal Prep

Design and Etching Process

Learn How to Patina and Colourize Metals

Sealing Metals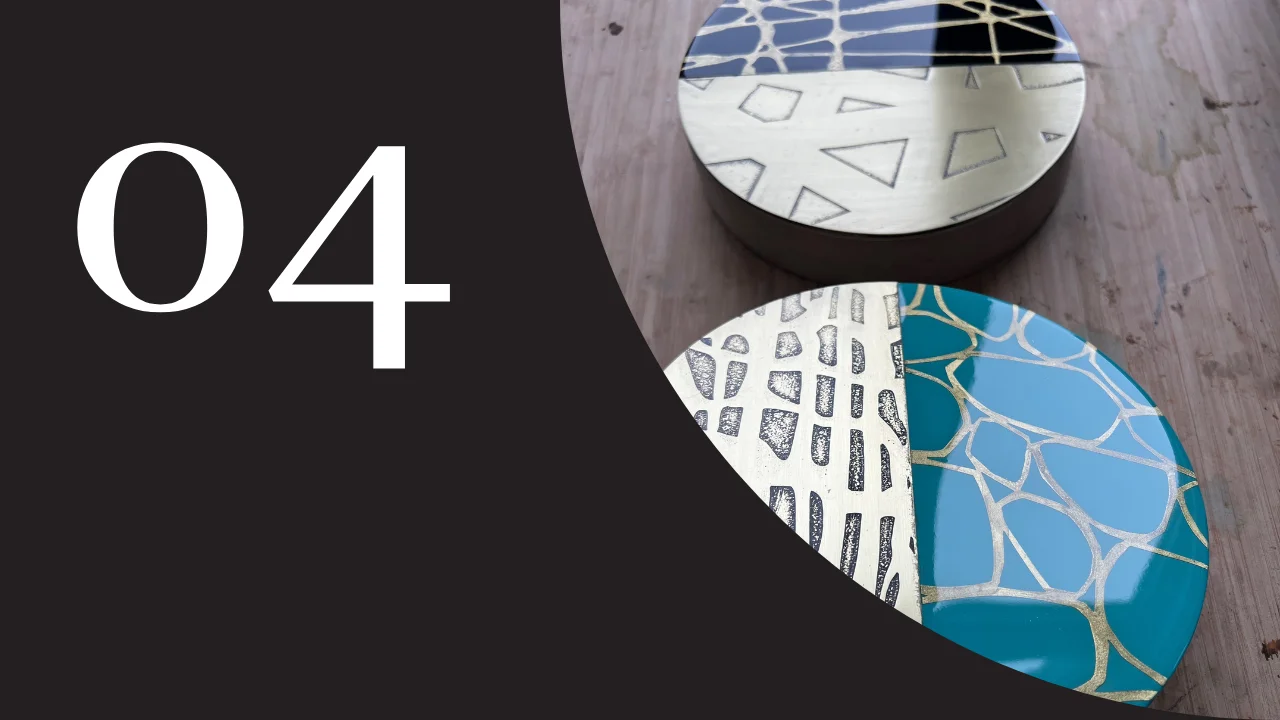 MODULE #4
Paper, Encaustic (or Resin) & Metal
Building off modules 2 and 3 you'll incorporate paper and a patina'd or etch metal piece into your art.
Selecting Papers and Metals for Your Work

Using Appropriate Adhesives to Attach Materials to Your Panel

Layering with Encaustic (or Resin)

Mark Making and Embellishing
MODULE #5
Mastering Metal Shapes
Learn advanced techniques to bend and form metal into solid shapes allowing you more choices in layout/design and giving your art a more professional look and feel.
Become knowledgeable on metal thicknesses, types and where to best source metal for forming shapes

Learn how to properly clean and prep metal for shaping and adhering

Learn to bend metals to form desired shapes
MODULE #6
Creating Harmony
Building on Module 5, you'll learn to effectively separate both mediums - resin and encaustic. In this final module you'll design and create a final piece of artwork using elements and techniques learned throughout the course that will result in a true Fused Harmony masterpiece!
Determine your colour, layout and design

Adhere your base layers

Incorporate your mediums of choice (resin or encaustic - or both!)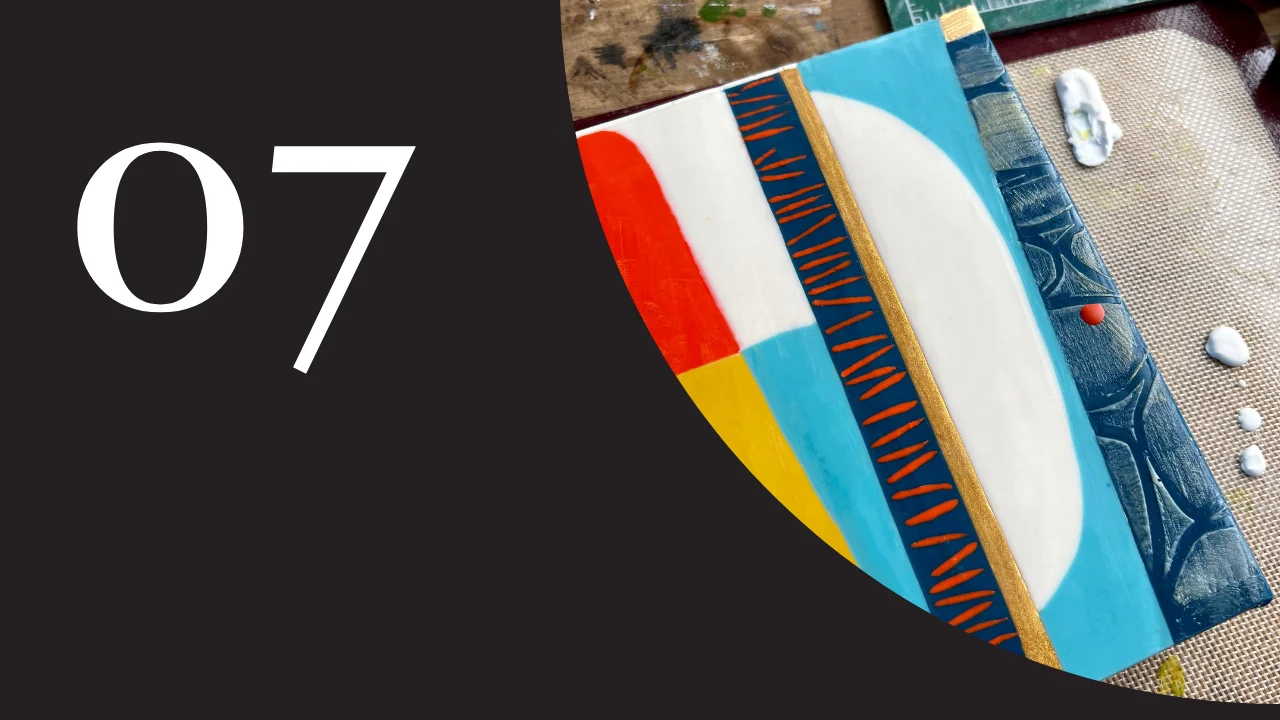 MODULE #7
Create-A-Shape Encaustic Technique
In this module I share my secret encaustic technique (developed in 2023), that allows you to create any shape or design in your work. This 'game changing' technique will speed up and transform your design process, no matter your style.
Determine you design and layout

Choose your encaustic paint colours

Apply the Create-A-Shape technique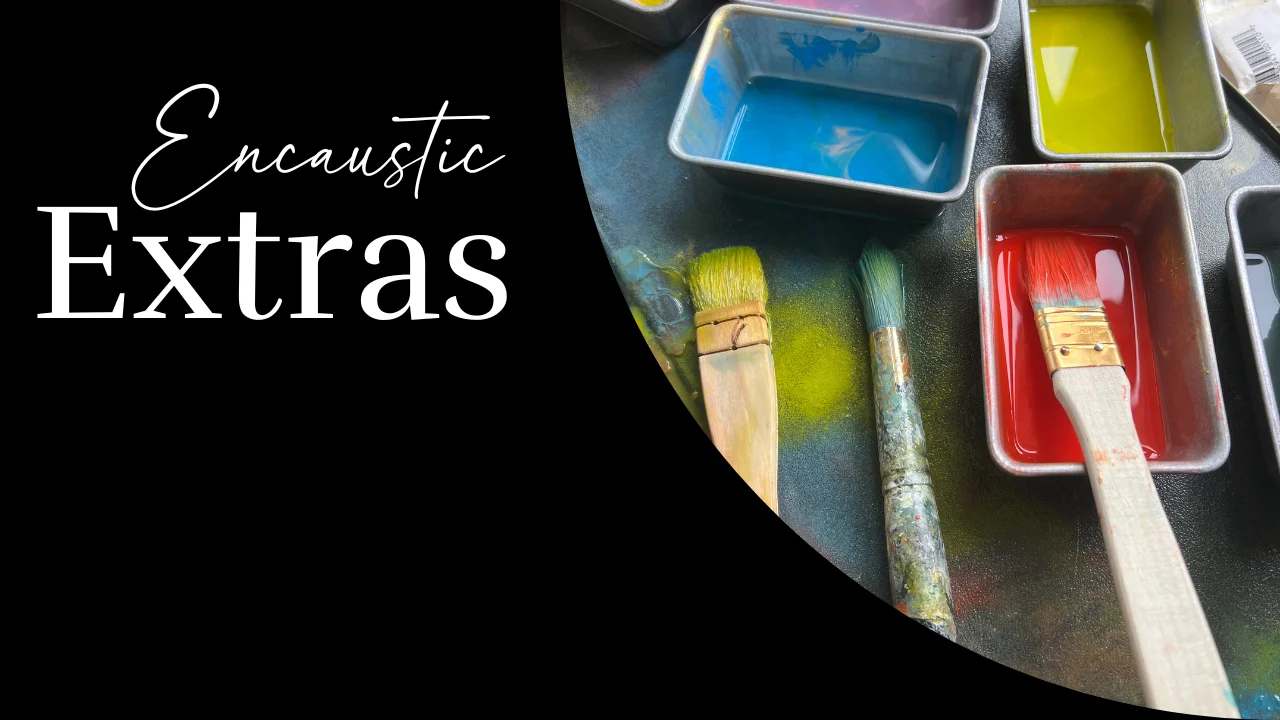 MODULE #8
Encaustic Extras
In addition to the core content, Jane shares tips and insights with other various encaustic techniques. These are quick digestible mini lessons. Extras include:
Stencil Inlay

Accretion

Image Transfer

Scrape Technique
In addition to Fused Harmony's core program content, you'll gain access to
exciting BONUS lessons!
INCREASE YOUR KNOWLEDGE AND UP YOUR ART GAME THAT MUCH MORE!
BONUS #1
Colorways – Art on Repeat
Learn to capture original artwork and turn it into something new. Whether it's from art that's been collecting dust or from pieces you love, Jane will teach you the process for putting art on repeat while still encompassing originality and uniqueness. In addition, you'll learn to create simple colorways with ease, allowing you to incorporate a different palette or contrast in your work. No technical or expensive design software required which means no overwhelm or hours spent learning new skills!
BONUS #2
Encaustic – Printed Pattern Play
Learn the steps for creating a set of beautiful patterned encaustic & metal minis unique to you. Discover Jane's waterfall edge method for a clean continuous patterned sides before finishing your panel edges with beautiful gold leaf. These little jewels will light up your life and leave you inspired to make more! As well, become quick little art sellers, putting more income in your pocket - If you can bear to part with them.
BONUS #3
Matte Resin / Vintage Metal
Whether you're new to resin and encaustic or a seasoned pro, these mediums can sometimes cause frustration. In this bonus lesson, you won't have to worry about achieving the perfect resin or flat encaustic finish. Instead, you'll happily learn how to produce a matte look with resin that mimics encaustic. A great alternative when you don't want that glossy look, or want to throw in the towel from overworking your layers!
Best online course I have taken, and I have taken a lot. Jane is a great teacher.



- Diane Rickert


Best course ever taken.

Jane is bar none the best, most thorough, talented teacher out.

- Deb Voso

Thank you, Jane. 
This has been an incredible course.



- Sandy Gard

Thank you, Jane Monteith!

Thank you for sharing your awesome techniques and stunning art with us.

- Melanie Burleson


Thank you for the best course Jane


- Arefa Hararwala


You're an incredible instructor!

Its really been just fantastic Jane!


- Leslie Hoyt


Thank you so much for all your inspiration


- Monique Querido


What a great and inspiring class!

I've learned so many new techniques on how to work with metal and incorporate it into my art. That was a great addition to my artwork. And so many tips and explanations! Thank you, Jane!


- Brigitte Schmitz-Kirschbaum


Thoroughly enjoyed from beginning to end.

Thank you for such an inspiring class.


- Louise Sterling


Here's how you'll know if 
Fused Harmony

is the right fit for you:
Fused Harmony IS for you, if:


You're an artist craving new techniques that will set you apart from the sea of similarity.


You're a budding new artist in need of inspiration and step by step guidance to create art that's unique and something you'll love.


You're a seasoned artist in need of a creative boost, fresh ideas and exciting new techniques that will enhance your current practice.


You're a creative looking to learn new skills that will increase your knowledge, skills and confidence in your art making ability
Fused Harmony ISN'T for you, if:


You're not interested in continuing your art education to improve your current process.


You don't want to stand out from the crowd and make art that's different.


You don't want to grow as an artist and/or be inspired by others.


You don't want to commit to learning new skills that can elevate your art to a professional level.
YOUR NEW ART SKILLS ARE JUST FEW STEPS AWAY!
Join

the Fused Harmony program

following these easy steps:
Choose Payment Method
Click any of the buttons on this page and you'll be directed to a section where you get to choose your preferred payment method; a one time payment or monthly installments.
Complete Your Purchase
Fill out your details and complete your payment on the checkout page with any major credit card or PayPal option and you'll get the receipt and instructions with login details to the course platform in an email shortly after.
Get Ready to Learn!
We'll start together with all the new students on Monday 4th of March and dive into the first module of exciting new ways to create art! Thanks to the lifetime access you can also complete it at your own preferred pace.
Did someone say
risk-free?
THAT'S RIGHT!
This course is backed by a 100% 7-day same day money back guarantee. I love helping others reach their art goals. I know this course will truly help you elevate your art. But if you decide you're unhappy with Fused Harmony and what it has to offer in the first 7 days, I'll give you your money back, no questions asked. It's my promise to you.
xo Jane
Check the full refund policy here.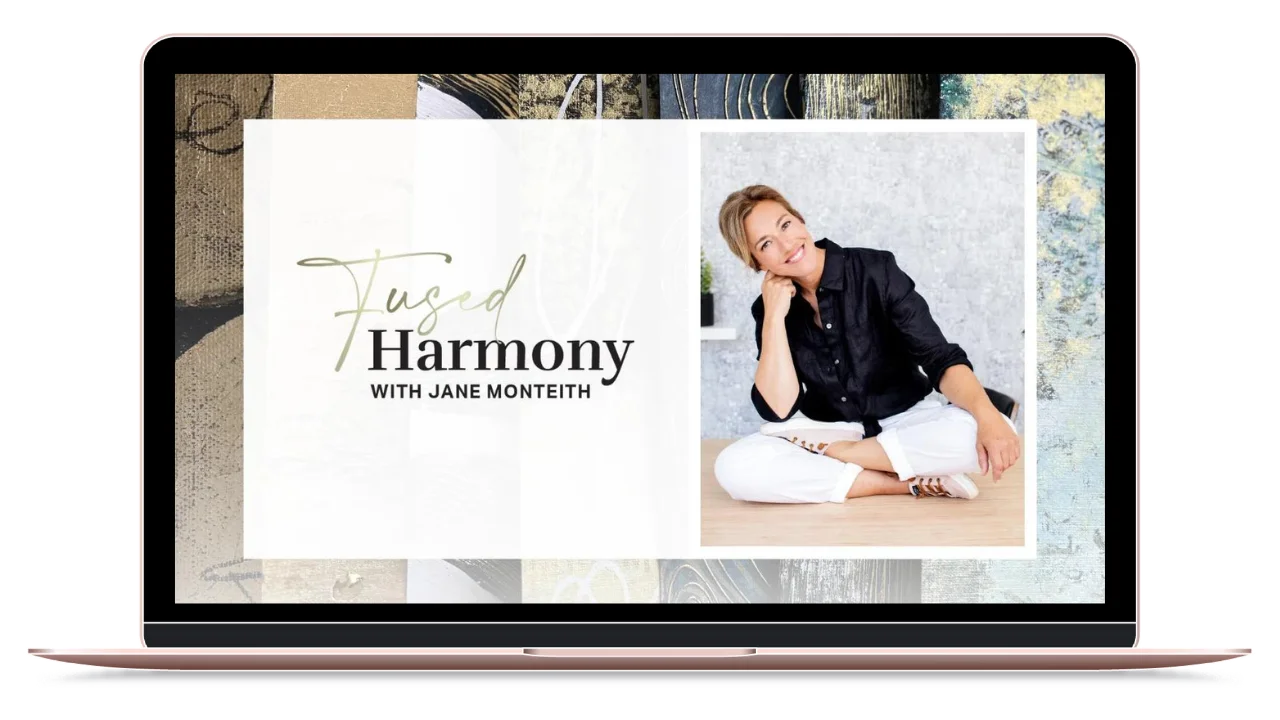 Join
Fused Harmony

today!
CHOOSE YOUR PREFERRED PAYMENT METHOD:
With the payment plan each payment follows 30 days apart. Prices include tax. This course is backed by a 100% 7-day money back guarantee. Decide, risk-free, if Jane's teaching style is compatible with your learning needs and if the course content makes sense for your art direction.
DOORS FOR ENROLLMENT CLOSE IN:
What is the cost of the program?
When does the course start?
This course focuses on using Resin and Encaustic. Do I need experience with both? Can I just work with just one?
I don't want to copy. Can this course still help me with my own art direction and different looking results?
What type of supplies do I need for the course? Is there a supply list?
How will I access the course and the private community?