Creating artists and artist entrepreneurs

Creative online courses for aspiring artists looking to kick start creativity and be inspired to create art that sells. Lots of techniques to implement into your art in your own unique way!


LET'S DO THIS!
Join Jane's Weekly Newsletter
for art tips and more!
Join my Art Community and be the first to hear about art tips, new products, course updates and more!
Your details are fully safe with us. Unsubscribe any time.
Ready to take your
artistic skills

to the next level?
ONLINE ART COURSES FOR ASPIRING ARTISTS AND ARTIST ENTREPRENEURS
Fused Harmony

Awaken your creativity and learn the skills to master Resin, Encaustic, and other elements together in harmony. Enhance your existing work or be inspired to take a new art direction, all while creating professional looking art that will demand attention and excel your level of expertise.


LEARN MORE
Alcohol Inks & Resin

Have fun exploring various techniques with Alcohol Inks. Learn how to use these vibrant and colourful inks on multiple substrates using a variety of tools before creating mini layered abstract collages with resin on wood panel. Self paced/lifetime access.


LEARN MORE
Cyanotype Printmaking

Learn the process for creating beautiful one of kind prints that you can admire individually or incorporate into other art. Learn step by step how to set up, expose, tone your prints, print on wood, embellish and more! No art experience needed :).


LEARN MORE
Enrollment for Fused Harmony course is now open for:
An exclusive online membership for Fused Harmony students.

Join other artists within a supportive community designed to help you further pursue your artistic endeavours. Continue honing your creative process and artistic direction. Gain valuable resources, tools and guidance essential for blossoming into a happy artist & entrepreneur.
Jane is an outstanding instructor who provides a well-designed and intentionally structured program. Jane's experiences and wealth of product knowledge will motivate you to explore and create regardless of your previous experience and knowledge in art.
Holly Rostkowsi
Classes like this help give self taught ones like me, an edge. The course is incredibly well put together and easy to follow. My favourite part is the wealth of information you get on different products and materials.
Brigitte Kirschbaum
Set Your Imagination Free with High-Quality Art Supplies!

Dive into Jane's array of art supplies. Let them ignite your artistic passions, elevate your creative pursuits, and open the doors to a world brimming with imagination and artistic expression!
EXPLORE THE ART SUPPLIES
Meet Jane

Hi I'm Jane, an artist, author and entrepreneur here to guide and teach you how to create, market and sell your art online.
I know what it's like to want to create something unique and sellable with the intention of turning a hobby into an online art business.
It can be frustrating not knowing where to start. Whether you're trying to ignite your creativity or figure out how to sell online, I understand.  You need specific skills and tools to do that, and I can teach you to do both!


READ JANE'S STORY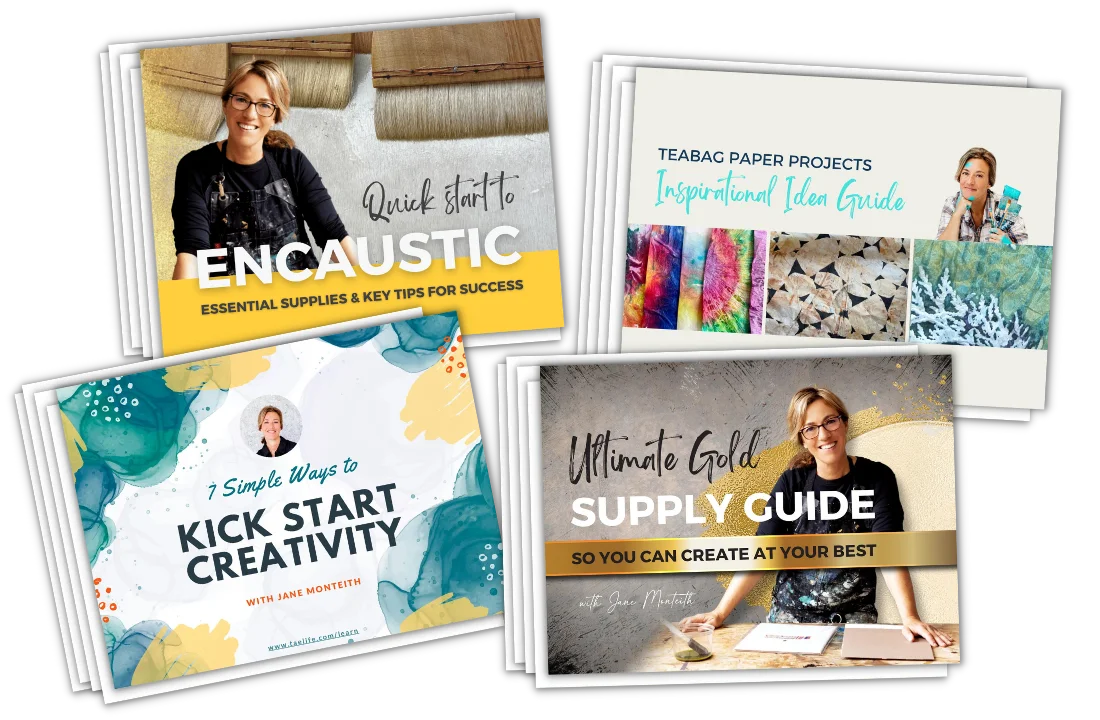 Discover a Wealth of Artistic Inspiration: Jane's Exclusive Collection of Free Art Guides!

Blossom into the successful thriving artist you've always wanted to be and dive into Jane's creative resources designed to fuel your artistic journey and unlock your imagination – all yours for free!
CHECK THE FREE RESOURCES
The Curious Creator

 Podcast


Whether you're a new artist or long time professional, we all need support, encouragement (and a few laughs) on our creative journey. This podcast was created for the artist seeking inspiration, motivation and knowledge to become the confident thriving artist they've always wanted to be.  Host Jane Monteith shares personal insights, past experiences, tips & tricks for creating great art, business advise for growing online, marketing strategies to sell art and more!



LISTEN TO THE PODCAST