Learn
with Jane
As a self taught artist I understand how important it is to feel supported while you build confidence and hone your skills. Whether you're into abstract or realism, I want to guide you to awaken your creativity and learn new techniques with Resin & Encaustic that will elevate your art to a new level of expertise. Let me help you become the artist you've always wanted to be.
Fused Harmony
An online course designed to awaken your creativity, teach you the skills to master Resin, Encaustic, and other elements together in harmony.
Enhance your existing work or be inspired to take a new art direction, all while creating professional looking art that will demand attention and excel your level of expertise.
LEARN MORE
Included in Fused Harmony
5 weeks of Creative & Technical Training
Awakening Creativity
Papers and Patterns
Metals 101
Resin & Encaustic
Shapes & Forms
BONUS Modules
An exclusive online membership for Fused Harmony students.
Join other artists within a supportive community designed to help you further pursue your artistic endeavours. Continue honing your creative process and artistic direction. Gain valuable resources, tools and guidance essential for blossoming into a happy artist & entrepreneur.
Mixed Media Masterclass
An online course teaching you mixed media techniques to spark your creativity and lift it to the next level.
Be inspired to create art that sells by learning new and exciting mixed media techniques. Enhance your art, hone your skills, and ignite your creativity; all while having fun and being supported by other artists just like you.
LEARN MORE
Included in Mixed Media:
Collage Papers
Multiple Techniques
Art finishes
Dimensional Textures
Private FB Group
Lifetime Access
BONUS Lessons
Resource Downloads
Alcohol Inks & Resin Course
An online course teaching you how to get creative with your art using alcohol inks and resin.
Have fun exploring various techniques with Alcohol Inks. Learn how to use these vibrant and colourful inks on multiple substrates using a variety to tools before creating mini layered abstract collages with resin on wood panel.
LEARN MORE
Included in Alcohol Inks & Resin:
Alcohol Inks 101
Collage with inks
Resin doming
Self-paced
Private FB Group
Lifetime Access
Cyanotype Printmaking
An online course teaching you how to create prints using cyanotype.
Create beautiful one of a kind cyanotype prints to use as stand alone artwork or as elements in collage. Learn how to manipulate results, embellish with gold and even print directly on wood.
LEARN MORE
Included in Cyanotype Printmaking:
Paper Prep
Washing and Toning
Embellishing
Private FB Group
Tips and Tricks
Lifetime Access
Artist Teabag Paper
Jane Monteith's Teabag Paper can be used in ALL kinds of Mixed Media artwork including Printmaking, Collage, Encaustic, Resin and more! It's thin, acid-free and non-yellowing, making it ideal for all your art projects.
SHOP NOW
Make your artwork pop with ArtResin
A hard durable clear gloss coat for your art pieces. It's been my go-to brand for years!
SHOP NOW
Shop Jane's ready-made art stencils
Explore the various ready-made art stencils from Jane's collection at StencilGirl and make your art creation process even easier!
SHOP NOW
Meet Jane

, your instructor

Hey there, I'm excited to meet you! I'm a self taught artist, author and teacher who loves all styles of collage and textures. Exploring and creating with mixed media is my passion, and I've been selling my art for years.

I'd love to share my passion, products, materials and techniques with you so you too can become excited about creating and selling your work.
- Jane
Need a kick start for your creativity?
Inspiration is the foundation and beginning of something special. I've spent the last 5 years finding my way and sharing what has allowed me to create beautiful art that sells - Let me help you to do the same by sharing my seven simple ways to kick start creativity!
GET THE FREE GUIDE
Your Idea Guide Awaits!
4 Inspirational techniques to help you begin using and incorporating Teabag Paper into your mixed media artwork. Time to have fun and experiment with this multi use paper.
GET THE FREE GUIDE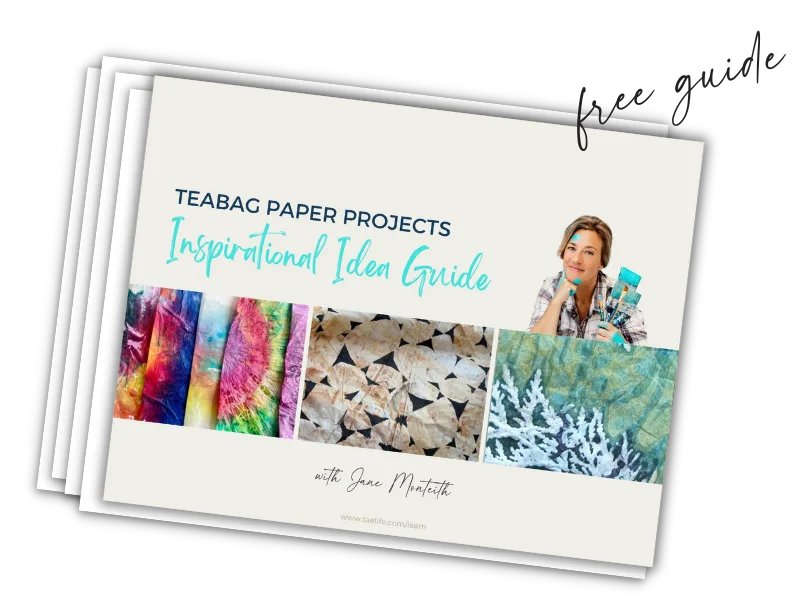 Join Jane's mailing list
to keep up with the latest news
Be the first to hear about new course announcements, special offers and product launches!
Your details are fully safe with us. Unsubscribe any time.